Hook and Ladder Cemetery
It's funny what you get used to when you grow up here. It's not until we have visitors that I'm reminded not everyone buries their dead above ground. The vaults in the Hook and Ladder Cemetery take up an entire block, bounded by Newton, Tenth, Eleventh and Lafayette Streets in the City of Gretna.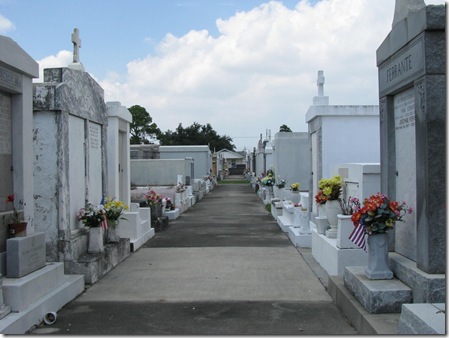 From the City of Gretna Website:
The Hook and Ladder Cemetery was established around 1859 and contains monuments of interest, including the those of John Ehret, the first mayor of Gretna and Louis Oscar Fried, the first casualty of the skirmish between the United States and Mexico.
Tombs in the cemetery range from very modest to much more ornate sites finished with granite or marble. Catholic families in the New Orleans area usually spend some time at the cemetery the last week of October, cleaning, repainting and polishing up in preparation of laying fresh flowers on All Saint's Day (November 1st). Catholicism is so ingrained in the city's culture that even non-Catholics follow many of the traditions, so the grounds and vaults usually look their best at that time.
If you decide to visit one of the local cemeteries, please be respectful and remember that this is the final resting place for someone's loved one.