What do we believe and embrace at
Crescent City Living?
• We love our city – fiercely, completely and in a way that only another NOLA lover will understand
• We believe in one agent, one client relationships, so our agents will not represent both a buyer and a seller on the same property. We don't believe any client should get less than 100% of our advise, expertise and effort during the purchase or sale of any real estate.
• We believe that information and knowledge are the basis for all good decisions
• We give our full attention to the people we are with, so if we don't answer the phone, know that you will have our undivided attention when we call you back (or email you or text you or whatever your preferred method of communication is)
• We love our families, our friends and our pets and treasure the time spent with them. This means we may take a Sunday off, but we will be at work, fresh and ready on Monday morning!
• We embrace technology, not for the cool factor, but for what it can do for YOU
• We are not here to sell you anything – we are here to educate, inform and guide through your home sale or purchase
• We believe it is better for us to show you what we do than tell you what someone else doesn't
• We believe that every home deserves the same attention, no matter how small or inexpensive
• We believe that every client should be treated with respect and honesty
• We welcome your questions, your critiques and your suggestions for how we can better serve you as a home buyer or seller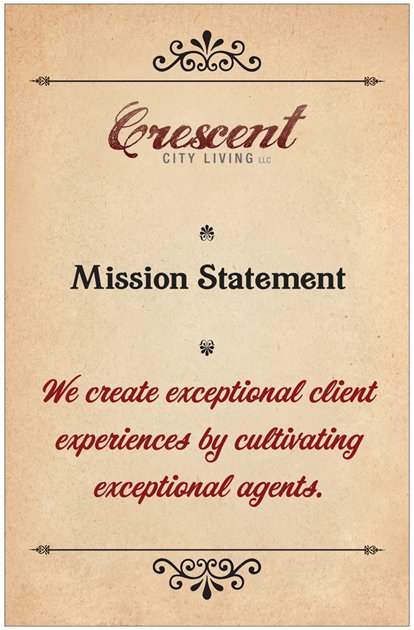 Need to contact us? It's easy. Call (504) 327-5303 or email the broker at lisa@crescentcityliving.com.