Living here is
Centrally located in Mid City
Perfect for
Outdoor lovers since it's next to City Park
A typical home:
3 bedroom + 2 bath single family cottage
Fairgrounds New Orleans Neighborhood
Part of the larger Mid City area in New Orleans, the Fairgrounds neighborhood takes its name from the Fair Grounds Race Course that sits in the middle of it.
Mostly residential, the predominant architectural types are raised cottages, Arts & Crafts cottages, townhouse style, and shotguns. Narrow, long lots are the norm, with backyards on the smaller side and parking limited to the street or driveways. The Fairgrounds neighborhood is filled with renovated homes and even a smattering of new construction.
You'll find residents walking and biking all over, with a WalkScore of 69 (mostly on the south and southeast sides of the track) and a BikeScore of 83. It's so easy to grab breakfast at Toast, cocktails at Brooks Seahorse Saloon, a po-boy at Liuzza's by the Track, coffee at CC's, or visit St. Louis Cemetery #3.
The pros of the Fairgrounds
The neighborhood is bordered by Bayou St. John, so you'll be near City Park, the New Orleans Museum of Art and the outdoor activities that happen along the bayou.
The cons of the Fairgrounds
For 2 weekends each spring, your neighborhood is inundated with both locals and tourists alike, during Jazz Fest. Parking can be a nightmare if you don't have off-street spaces or an arrangement with a neighbor that does. This makes homes with parking much more desirable, with a corresponding increase in price.
What do residents say?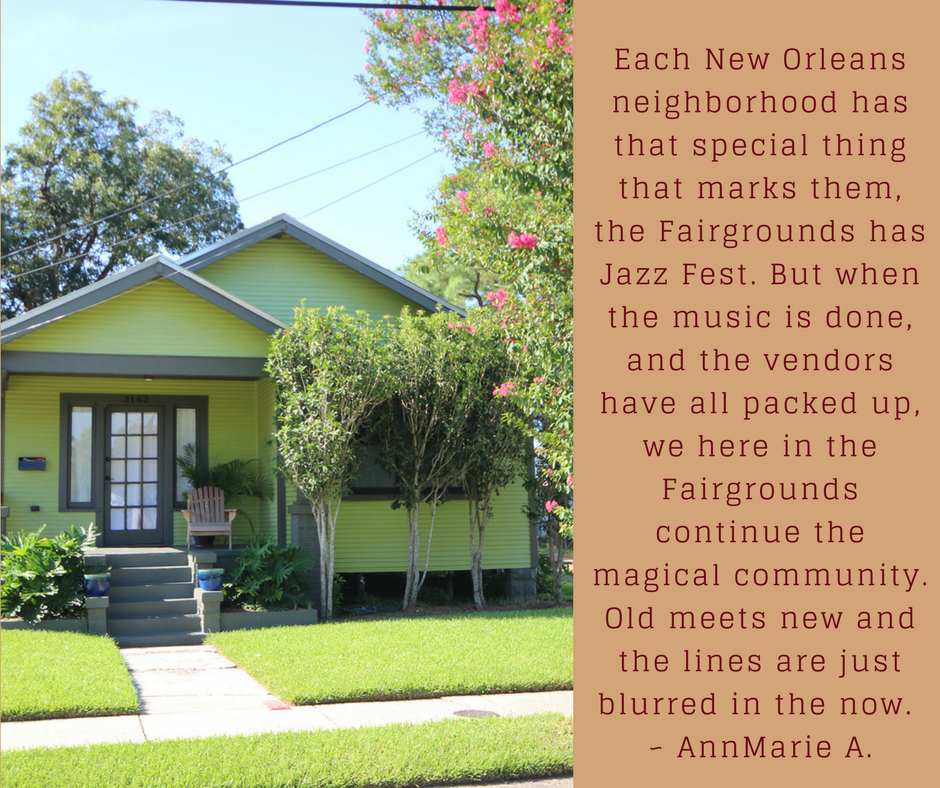 If you like this neighborhood, you may also like: