New Orleans Real Estate Deposits
Homebuyers in New Orleans need to be prepared with their finances before making an offer on any house. One of the items that must be readily available is the deposit agreed upon in your purchase agreement.
If you're moving from another state, the idea of a deposit might seem foreign to you, since it may be called earnest money in your area. That's not the case in Louisiana, where a deposit is held by a licensed Broker until the contract is either fulfilled or canceled.
…the BUYER or the BUYER'S agent shall deliver immediately….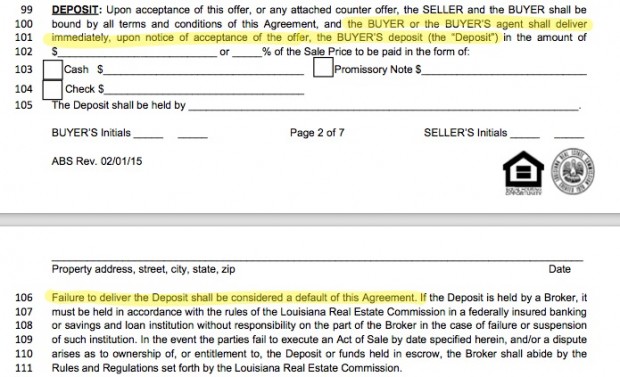 We've seen buyers lately that were completely unconcerned about getting the deposit delivered timely. Don't do this! Whether it's just a busy schedule or some other reason, sellers get very nervous about waiting on deposits, since that's the buyer's skin in the game, so to speak.
Most homeowners are not willing to take their house off of the market until the deposit is received. Are you willing to risk losing "your" house to someone else?
In our opinion, no deposit = no contract, so we recommend writing the deposit check at the same time as you write the offer. Let your agent hold it until the contract is executed and they can deliver it to the listing agent right away. The worst that can happen is that you have to void a check if negotiations don't lead to an agreement.