When you're driving down Jackson Avenue, on the edge of the Lower Garden District, and you're paying more attention to making sure you don't get a camera ticket than to your surroundings, you might miss Turkey and the Wolf. That would be a mistake.
I recently had a lunch date with a friend and, despite all of the fabulous reviews, neither of us had been there yet. Don't be like us. Go. Like today, if possible.
The space
It's an unassuming space until you notice the colorful mural on the side of the building, the outdoor dining, and the completely kitschy interior decor that will remind you of some long relative's decorating style. It's like a perpetual #throwbackthursday from the moment you walk through the doors – in the best possible way.
The menu
Sandwiches, quirky tacos, salads, and the most amazing deviled eggs I've ever eaten. Topped with fried chicken skin, fresh dill, and a dash of hot sauce, I thought I had died and gone to fat girl heaven. Fortunately for me, the rest of the meal was just as good.
Go with someone else, so you can sample multiple items from the menu. We started with the deviled eggs, and then moved on to share the meatloaf sandwich and the Italian American sandwich. Completely different flavor profiles, but both were delicious. I know…you're probably thinking, what the what? You're excited about a meatloaf sandwich? Yes. Yes, I am. Trust me on this. And the eggs too.
There's a little twist to everything on the menu, right down the fried bologna sandwich (not your Oscar Meyer, peel the red stuff off the edge bologna, either).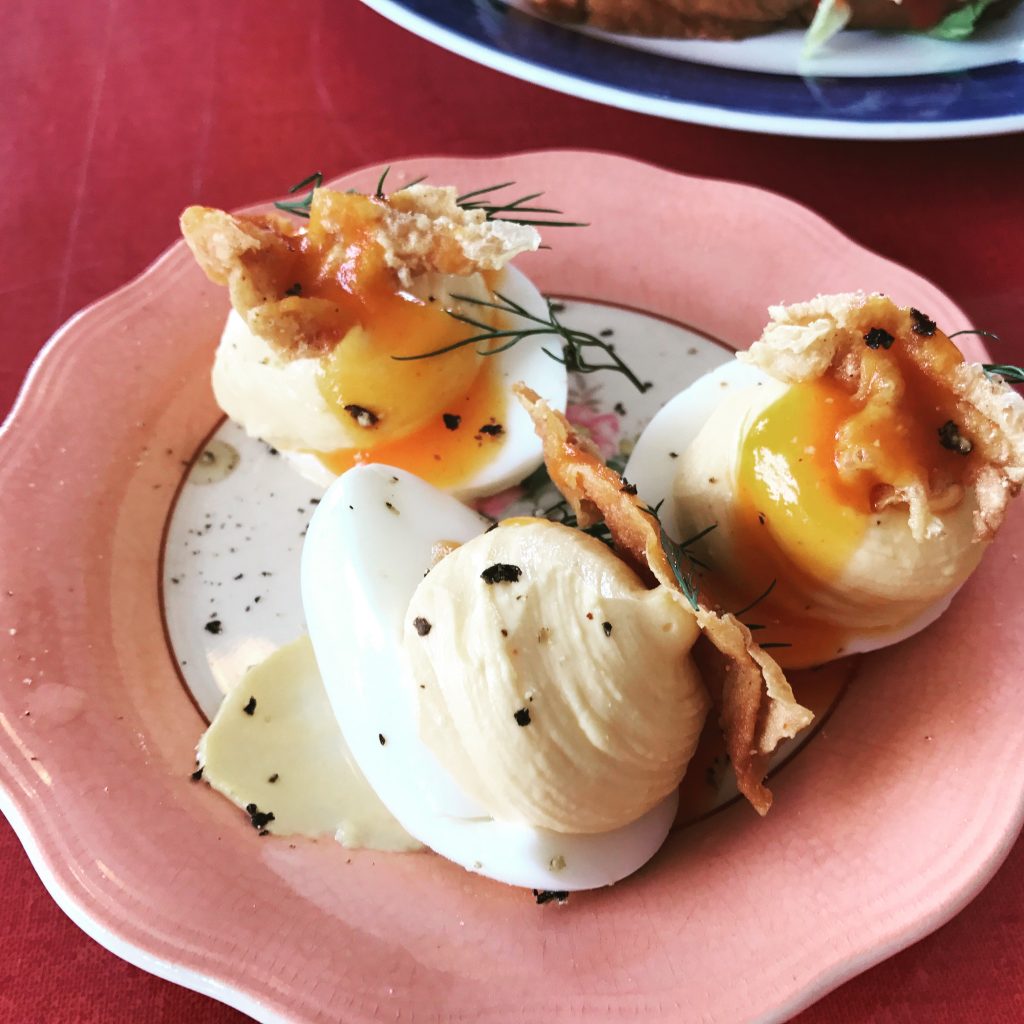 As I went searching for the links to share here, I found that they also have one of the sassiest, most irreverent Instagram feeds ever. You should follow them here. And on Facebook as well, where you'll know about the happy offer and daily lunch specials.
Where and when
739 Jackson Ave.
New Orleans, LA 70130
504.218.7428
Wednesday – Monday: 11am – 9pm
Sunday: 11am – 5pm
CLOSED TUESDAYS
Let me know if you loved it as much as I did.