Living Room Staging Tips
Once again, our resident staging expert, Amie Chaney, is back with more tips for staging your home. Making a living room area appear inviting and spacious can be an easy task with just a few changes.  Amie's living room staging tips are in blue, while our recommendations are in italics.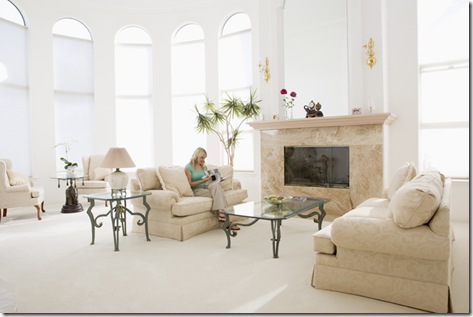 Tips for Staging Living Rooms and Dens
Make shelving appear larger by packing up 80% of what is currently there.  A good rule of thumb is that if it has eyes, it has to go.  This means packing up the family photos!
Remove anything that might be off putting to potential buyers such as mounted deer heads, skeletal remains of animals or religious items.  Some people have very strong feelings about this.  You don't want to turn off a buyer who is a member of PETA or who has different religious beliefs than you do.
Add splashes of color by using throw pillows and throws.  Use discretion though…choose one accent color and use it sparingly.
Use only healthy, thriving green plants in your home — remove straggly or overpowering plants.  This is the place where we remind you about getting rid of (or packing away) those dusty, fake house plants.  No one is fooled by them, so out they go. 
If you have a fireplace, this is a great selling feature. Make sure it is cleaned and well maintained.  During the winter months, place a few logs in the fireplace.  During the spring and summer, a few large candles can fill the space and make it appear appealing year round.  
Your fireplace mantle should not be overburdened with items. Less is more when it comes to mantles – a pretty flower arrangement or several candles will do the trick.  Remember, neutral is the key.  No family photos, no knick-knacks, no strings of lights, and no collectibles.
To maximize floor space there should be no magazine racks, baskets or piles of books on the floor.  Now is the time to sort through all of your reading material and pack what you want to move and either toss or donate the rest.
The use of current issues of beautiful home magazines such as Veranda, House Beautiful and Traditional Home on the coffee table is acceptable.  Again, everyone has different taste, so those back issues of Hunting Guide will need to be removed.
If you have 8-foot ceilings, do not put anything on the top of bookcases or cabinets. This will make the ceiling seem lower than it actually is.  Making buyers feel a little claustrophobic is not part of the marketing plan.
Group like items in odd numbers such as 3 candle holders or 3 prints.  Don't overdo it!  Just a couple of groupings is enough for all but the largest of rooms.
Thank you, Amie, for continuing to provide great information to our readers.  If you are looking for professional home staging services in southeast Louisiana, please contact us at 504-327-5303 for a referral to a stager who can help you prepare your home to appeal to even the most discriminating of buyers.
---
We provide professional real estate services to buyers and sellers in metro New Orleans.  Making your home selling or buying experience fun is our goal!