Online Views But No Showings?
We recently had a homeowner concerned because they had a high number of online views but no showings had been scheduled for their property. (Disclaimer: it's not the house below!)
So we thought it was time to explain how sites like Zillow, Realtor.com and Trulia calculate views on their sites.
A view is counted every time someone loads a page that contains your property. It could be the details page (like the one below) or it could be a results page with a list of all of the homes that meet their search criteria. Either way, a view is added to the count, even if someone scrolls right past your listing and never gives it a second glance.
And all of those times that you and your friends pull up your property to look at it again? Those counts as views too! If you're checking your listing multiple times a day, you are increasing the view count every single time. Even though we know that you aren't in the market to buy your own home, you're counted in that total.
The bottom line? Views don't mean a thing. Showings and offers are the real feedback on your home.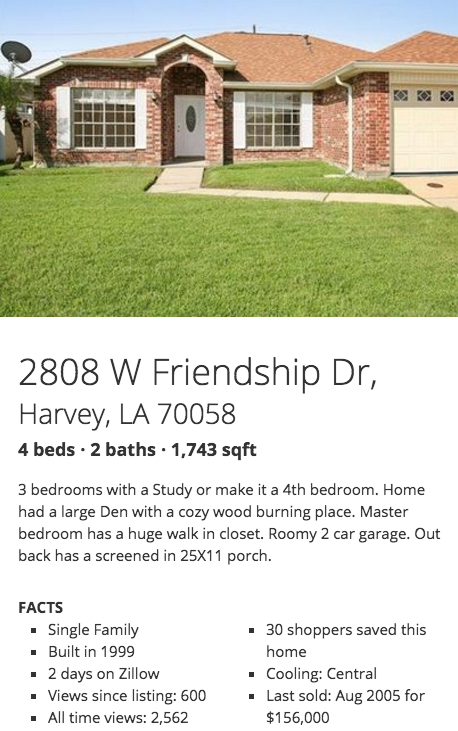 What else could be the problem?
The same things that we always talk about. Price, condition, location and marketing.
You control the price and condition, the location can't be changed, and your agent controls your marketing. Be sure that you're putting your best internet foot forward with excellent photography. The photos are your first impression, the reason that buyers will click through, add a view count, and then schedule a showing. Home sellers should review the photographs of your home online – if they aren't good enough? Ask your agent to have a professional take new photos and update all of the marketing to give buyers a reason to make an appointment.
Need more home selling advice? Call us today at 504-327-5303 or read some of our other home selling tips.
---
Have a question about selling your home? Ask it here.