Football Games in New Orleans
Everyone has their favorite local bar they go to for Sunday football games in New Orleans. We asked you tell us your favorite and why. Here goes it.
Lower Garden District
Halfmoon Bar & Grill 1125 St. Mary 70130 504-522-0599 Open @ 11am 
I'm a tad partial after spending over a decade behind this bar doling out drinks. But, even the people on the streets agreed. With 14 TVs, you can watch the Saints while yelling at your fantasy players on other teams. Halfmoon is always filled with fans of every team and provides free food on Sundays. This week they will have a hot dog bar. Every sunday during the season will have $12 Mimosa pitchers, $4 moscow mules, & $5 Big Bloody Mary's. Y'all say "Hi" to Tito for me!
Uptown
Uptown was too big to pick one bar, so at least y'all named two that weren't too close to each other. I consider one "far uptown."
45 Tchoup 4529 Tchoupitoulas 70115 504-891-9066 Opens @ 11am
Tchoup is known as a baseball bar, but they do it right for football season too. When I messaged one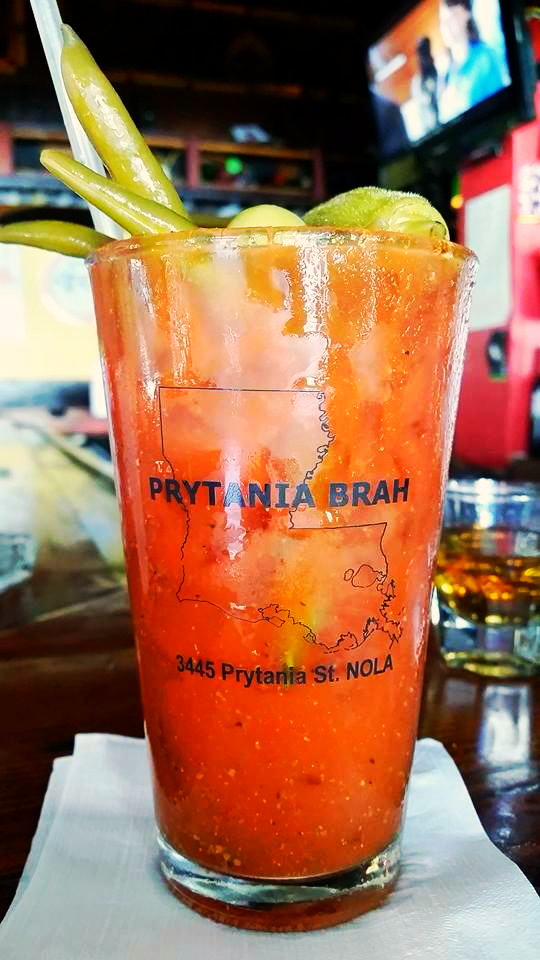 of the owners, Debbie, to give me specifics, she responded back with "Drop In. Drink Up. Watch your favorite team, yo!" I think we can take that as they have the NFL Sunday ticket to show all the games too. With 8 TVs, it's a safe bet you can watch one other game. Free food! And I have NEVER been to an event at 45 Tchoup that didn't have AWESOME free food. This week they will be providing brunch and serving Brandy Alexander's on special. Sundays during gridiron will be pitcher specials and different $2 beers. I was told by a friend that this is "where the cool kids are."
The Prytania Bar  3445 Prytania 70115 504-891-5773 Opens @11am
Maybe I shouldn't mention this bar, as it's not an over crowded place. They provide free shots anytime the Saints make it to the end zone. Prytania has 7 TVs and a great sound system to hear every play, good and bad. I will personally attest to it being one of the BEST bloody mary's in the city. They use rosemary & garlic infused vodka. That was the first bloody mary I ever chugged. And it's only $5 for a double on Sundays. Just go and drink it.
A quote from Dan, who suggested this bar: "I find the owner more entertaining than watching the Saints **** it up again."
Marigny
R Bar  1431 Royal St. 70116 504-948-7499  Open at 11:30am
I have only ever been in this bar during Krewe de Vieux, so I'm going totally off the recommendations of my most esteemed peers. (Or the ones who answered my FB poll) It appears as if R Bar provides penalty flags that you can throw at a screen if you don't like the call or play. Free food and free shots when the Saints win too! Sounds like a win to me! Pro tip: Get there early.
French Quarter
Upper Quarter Bar 1000 Bienville 70112 504-523-4111 Open @ 10am
This seems like a little slice of heaven when someone said "I've never had trouble getting a drink there." Hold the phone and sign me up then. Free food provided with this weeks menu being hamburgers w/all the fixings, potato wedges dusted in parmesan and a slice of watermelon. Here is the kicker that has me intrigued… Free pudding shots for every Saints TD. It's a flat out fun place to watch game.
Bywater
J& J's 800 France 70117 504-942-8877
This little laid back bar tucked away in the Bywater is getting noticed big time for being a Saints hot spot. Must be the crowd that hangs there, as it's mentioned numerous times about how friendly the people are and you typically run into someone you know even when you're not from that 'hood. Food is put out and cheap beers are to be had.
Mid-City
Parkview Tavern 910 N. Carrollton 70119 504-482-2680  Open @ 11am
Another bar with free food during the game, but this place has outdoor seating with TVs so you can bring your pup! (And for the smokers who are banished out front) It's just a great neighborhood bar where everyone knows everyone else and quoted from my friend Molly "a douche-bag free zone." The indoor/outdoor setup is a win for everyone and there's a second line parade after every Saints win. The bar is smaller, so be ready to order when the bartender comes up!
Algiers
J&K Bar 3700 Gen. Meyer 70114 504-361-9102 Open @ 11am
Naturally Algiers. This ain't the same bar we went to underage in the late 90s. They now have a beautifully done patio area with TVs and misting fans, for when it's still hot as Hades into the alleged fall. TVs are inside too, along with a 105" projector screen. Free shots for field goals & 2 for 1 drinks for TD's. Lots of seating and potluck on Sundays. Bring your best casserole and Uber to the Westbank. You might catch my mom there.
CBD
The Rusty Nail  1100 Constance St. 504-525-5515 Open at 9am for home noon games. 11am all other Sundays.
Taceaux Loceaux is the amazing food option this football season there and the drink special is a Chai Spice Pina Colada. They have 12 TVs and space to add more if the crowd demands it. The courtyard is bigger than some bars in this city. Even with accommodating that many people, they still have some of the nicest bartenders.  They even have a great $13 domestic beer bucket special. That's 5 ice cold domestics with $1 from the sale of each bucket donated to Team Gleason. With 12 TVs, they have the sound up and DJ Scott Satchfield playing music between commercials/halftime.
Not into football?
For those of you not into football, this is a great time for brunch reservations and grocery store trips without the hassle of other people. The best recommendation I got for places for to watch a Saints game was this text from my girl Sayde : "the best place to watch the game is at Apolline bc there are bottomless mimosas and no tvs." 
Happy football season y'all.