Have you seen the bead dogs scattered throughout New Orleans and Metairie?  Finding them is like embarking on an artistic treasure hunt all over the city.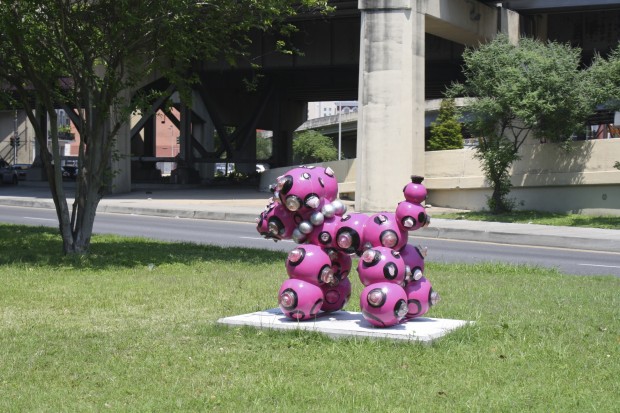 The official name is Paws on Parade and the project is designed to raise awareness of animal needs and welfare in the area.  At the end of the parade (in September) many of the sculptures will be auctioned off to raise funds for LA SPCA.
From the SPCA website:
What is a Mardi Gras Bead Dog®?

A tradition among generations of New Orleanians, children create Bead Dogs from discarded Mardi Gras throws. A few twists and turns transform a necklace of beads into a fun trinket to enjoy. Haydel's Bakery adopted the Mardi Gras Bead Dog® as their mascot and has graciously donated the sculpture's mold to promote the LA/SPCA's mission.
With almost 50 sculptures out and about, there are even 2 bead dogs on the West Bank.  One is greeting visitors at the Algiers Ferry Landing and the other is standing guard outside the SPCA building on L.B. Landry in Algiers.
I've been on the lookout for these colorful creations ever since I spotted the first one a couple of weeks ago.  You can always cheat and follow a map if you don't want to wait to stumble across them, but what's the fun in that?