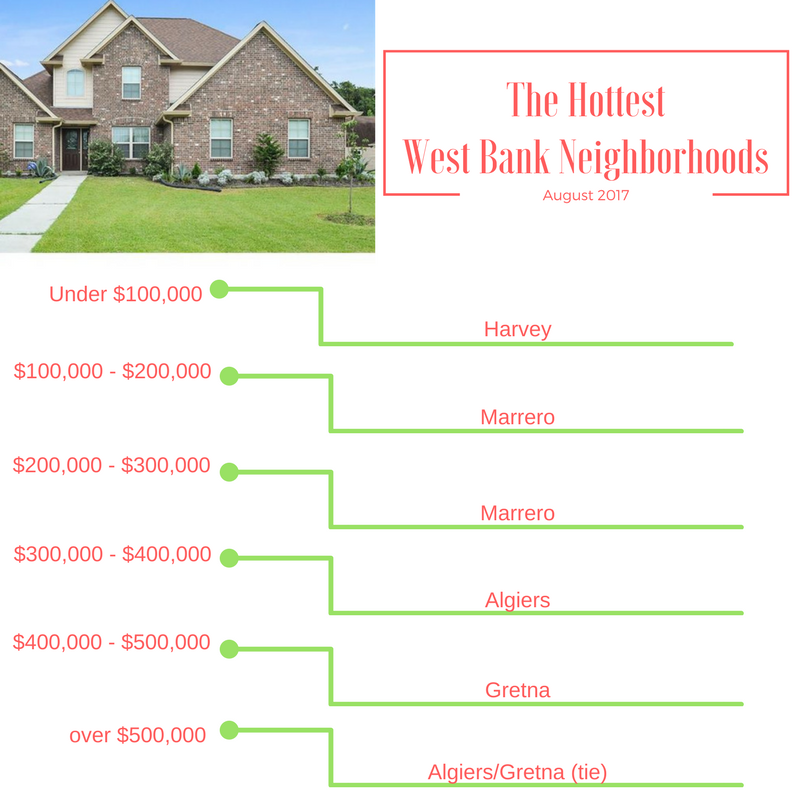 Hot New Orleans West Bank Neighborhoods
What were the hottest New Orleans West Bank neighborhoods in August 2017? We reviewed all of the home sales for the month and here are the buyer choices last month.
Up to $100,000
Harvey was the clear favorite here, with 11 homes sold for less than $100,000. Don't get too excited about this though. Only 1 was in excellent condition, with the remaining falling into Average (6), Fair (3), and Poor (1) condition. It's tough out there in the affordable price ranges, y'all.
$100,000-$200,000
Marrero held onto the title in August, edging out Algiers by 1 single sale. The most popular area for this price range was around the West Jeff Medical Center. 20 of the 27 homes sold were in New, Excellent, or Very Good condition, making Marrero a first time home buyer's dream right now.
$200,000-$300,000
Marrero took the title from Algiers, with 12 of the 31 homes sold in the $200k-$300k range. New construction in Bent Tree Estates was the clear preference of buyers in this range.
$300,000-$400,000
Algiers held onto the lead in this category, with 5 of the 15 homes sold. 2 were in Algiers Point and 3 were in the 70131 zip code.
$400,000-$500,000
Only 4 homes sold in August, with 2 of them in unincorporated Gretna. One home in Stonebridge and one in Timberlane.
$500,000+
Algiers and Gretna were beat out this month by Marrero, with 2 of the 4 homes sold. If you haven't seen those big, custom homes along Barataria, you're missing out on some great luxury properties.
---
Ready to start your own West Bank home search? You can do it right here.