Park Place Subdivision • Gretna LA
Developed in the 1980s, the Park Place subdivision is located in Jefferson Parish, in Gretna, Louisiana.  A collection of condos and single family homes make up this community of well kept residences.  More than 20 years after the first owner moved in, the neighborhood has matured, with many homes boasting mature shade trees and some beautiful landscaping.
Map of Park Place
It's easy to get to anywhere on the West Bank from Park Place, but you don't have to go far to find shopping, dining, golf, parks, playgrounds and more.  Downtown New Orleans is only minutes away, with Terry Parkway bringing you right onto the Crescent City Connection.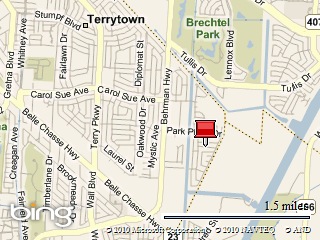 Park Place Neighborhood Tour
Other facts about Park Place Gretna
Condo sizes range from 1 to 3 bedrooms, with square footage ranging from around 750 square feet to over 1,000 square feet per unit
Home sizes range from 3 to 4 bedrooms,  with square footage ranging from around 1,450 square feet to over 2,400 square feet of living area
There is a home owner association, but membership and dues are not required.  Of course, it's always a good idea to get involved in your community and get to know your neighbors!
Park Place is located in flood zone AE, which means lenders will require you to carry flood insurance
Community information
Jefferson Parish Public Schools
Jefferson Parish Parochial Schools
Jefferson Parish official website
Homes for sale
Sorry we are experiencing system issues. Please try again.
To view any of these properties, call us at 504-327-5303