There's always some agent that's hollering "it's a great time to sell!", no matter what might be happening in the actual real estate market.
But this is 2020 New Orleans home selling and there's nothing normal about this year, including your odds of selling your home quickly – they've gone way, way, waaaaay up.
That's not to say that every house is flying off of the shelf, though!
Your price point absolutely determines how much competition you have, the level of buyer demand, and your odds of selling quickly.
*Note: all stats below are for single-family homes
Under $175,000
Affordable properties are in short supply, as evidenced by the just over 3 months of inventory in the under $175,000 price range.
Unless it's severely overpriced or just in terrible shape, a home in this range is selling fast.
$175,000 – $298,999
You'd think when a budget bumps up to almost $300,000 there would be more homes for sale for buyers to choose from. You'd be wrong.
Even at this price point, there is just over 3 months of available inventory.
$299,000 to $488,999
Surely when buyers are searching up to the high $400s there's a larger selection, right? Wrong.
3.7 months is all of the inventory in this price range as well.
$489,000 and up
The standard for a seller's market is less than 6 months of inventory. Guess what? Even in the over $489,000 segment, there's only 5.7 months worth of homes for sale.
As of today (12/4/2020), you have to dive deep into the over $650,000 homes to find a market that favors buyers at all.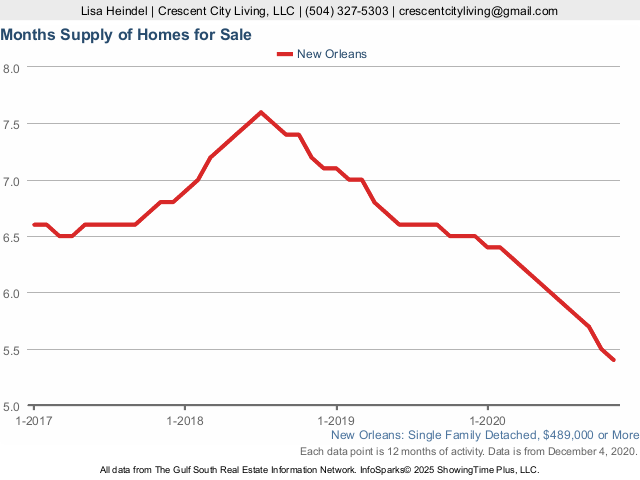 So what does this mean for 2020 New Orleans Home Selling?
The combination of low interest rates, low inventory, increasing prices, and high demand for homes means that now actually IS a good time to sell.
If you'd like our professional opinion on the saleability of your home, just give us a call at 504-327-5303.