New Orleans Home Sales
Buyers have been complaining that inventory is tight across New Orleans. It's not uncommon for us to hear that people can't find homes in their price range or that they're beaten out during multiple offer situations. But what do the actual numbers say about New Orleans home sales?
While the number of residential real estate sales has increased over the last 3 years, so has the number of new listings hitting the market. 2015 saw nearly as many owners enter the selling market as back in 2010, when there were almost 2,000 fewer sales.
What I find most interesting about this chart is how the line started flattening out from 2014-2015. There may be more homes on the market than any time in the last few years, but the number of actual sales is not keeping up with the increase. If the numbers for 2016 are any indicator (3,185 sales to date), the total number of real estate transfers will be almost flat this year.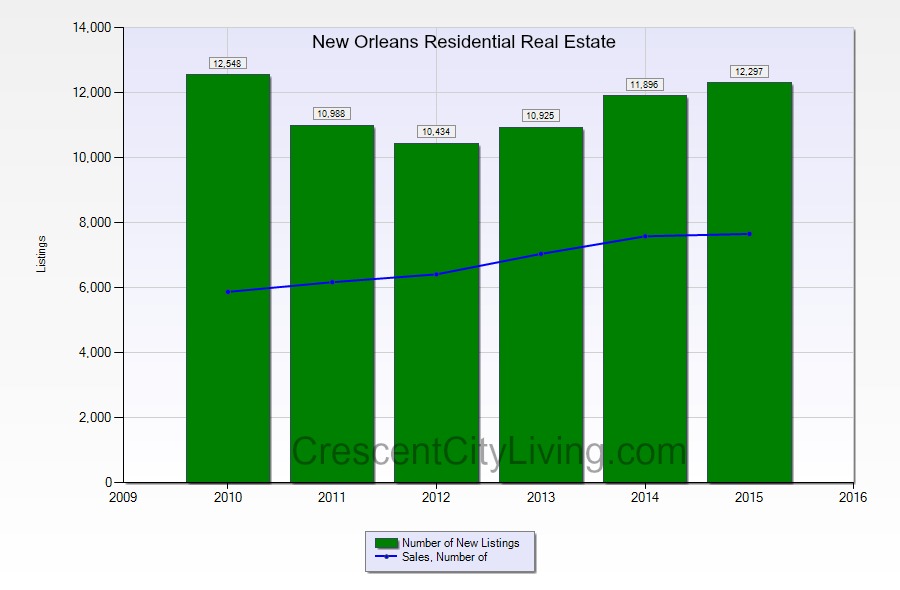 For those that prefer their data straight up instead of in a chart
So why is it still so hard for you to find a New Orleans home?
Price, condition and location will always be the driving factors in any real estate market. Many of the most popular neighborhoods have hit a tipping point in pricing, making them unaffordable for the very people that want to be there. The more affordable homes are often in a condition that won't allow for FHA or VA financing, so only the best borrowers, or those able to pay cash, are in a position to purchase them. This can result in frustrated buyers who think they'll never find the right place to call home in NOLA.
Will we see a change soon?
I definitely see some changes happening already. Homes that would have been snapped up the first week on the market last year are taking a little longer to sell. Condos sales in the Warehouse District have slowed dramatically. Buyers are turning their sights to more affordable neighborhoods like Gentilly and even over to the West Bank to find places that don't need tens of thousands of dollars in improvements just to be livable.
Will this translate into lower prices in places like the Garden District and Uptown? It remains to be seen, but I'm sensing a peak in values in some of these neighborhoods, which will result in owners either taking their place off of the market or settling for a lower price to get it sold.
Numbers and technology are great. But they can't replace the expertise of a knowledgeable local agent – let us help you feel confident in your home buying or selling decision.
Call 504-327-5303 today to speak to an expert in your area.