Most Popular New Orleans Neighborhoods
The rankings have changed some since we looked at the most popular New Orleans neighborhoods in May.
Algiers held on to the under $100,000 price range, with 9 of the 42 homes sold in this price range. Sold prices ranged from a low of $30,000 to a high of $85,000. Median days on market in this range was just 17 days.
The lowest priced New Orleans home sold in October was 3934 Louisa Street in the Desire neighborhood. In poor condition, it went for just $22,500.
Algiers also reclaimed the top spot in the most popular $100,000-$200,000 price range, with 15 of the 63 homes sold. 12 of those were in excellent or very good condition, so it takes the top spot for affordable, move in ready homes.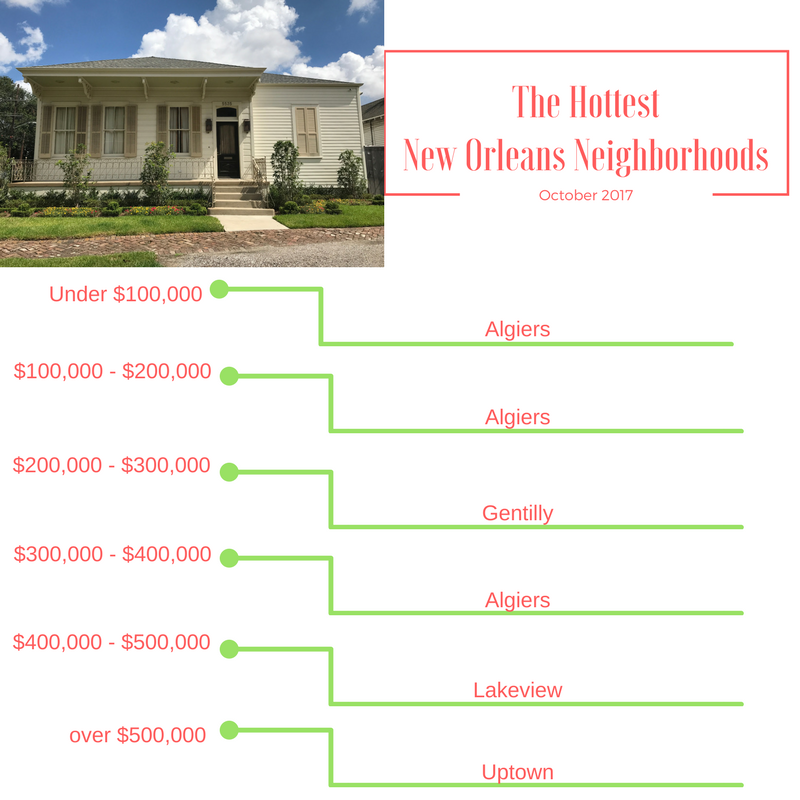 Moving into the $200,000-$300,000 price range, there were a total of 44 homes sold, widely spread across the entire city. But the winner was Gentilly, with 5 homes sold in October.
The $300,000-$400,000 bracket was won by Algiers, with 6 of the 37 homes sold. However, that "sliver by the river" that stretches from the Quarter to the Bywater also had 6 sales. Back in the spring, Lakeview was the preferred neighborhood in this range, but prices seem to be bumping up slowly, mostly because of new construction.
Lakeview held the $400,000-$500,000 title, with 5 of the 23 sales in this bracket.
In the luxury market (over $500,000), Uptown neighborhoods were the clear preference. Of the 43 sales over $500k in October, the majority were between St. Charles Avenue and the river, spread across the Garden District, Audubon, Touro and West Riverside.
Million Dollar Listings
Sales of $1mm+ homes have slowed since the spring. October recorded just 5 sales, with the most expensive property transferred at a whopping $4,500,000. The home at 1415 Third St in the Garden District was originally listed at $6,450,000 and finally sold after 651 days on the market.