Most Popular New Orleans Neighborhoods
The rankings have changed some since we looked at the most popular New Orleans neighborhoods in April.
Algiers held on to the under $100,000 price range, with 12 of the 56 homes sold in this price range. The majority of those sales were homes in fair or poor condition, so don't get too excited about finding a great property for less than $100k.
The lowest priced New Orleans home sold in May was 1712 Odeon in Algiers. In fair condition, it went for just $15,000.
Gentilly bumped Algiers from the most popular $100,000-$200,000 price range, with 16 of the 74 homes sold. 14 of those were in excellent or very good condition, so it takes the top spot for affordable, move in ready homes in May.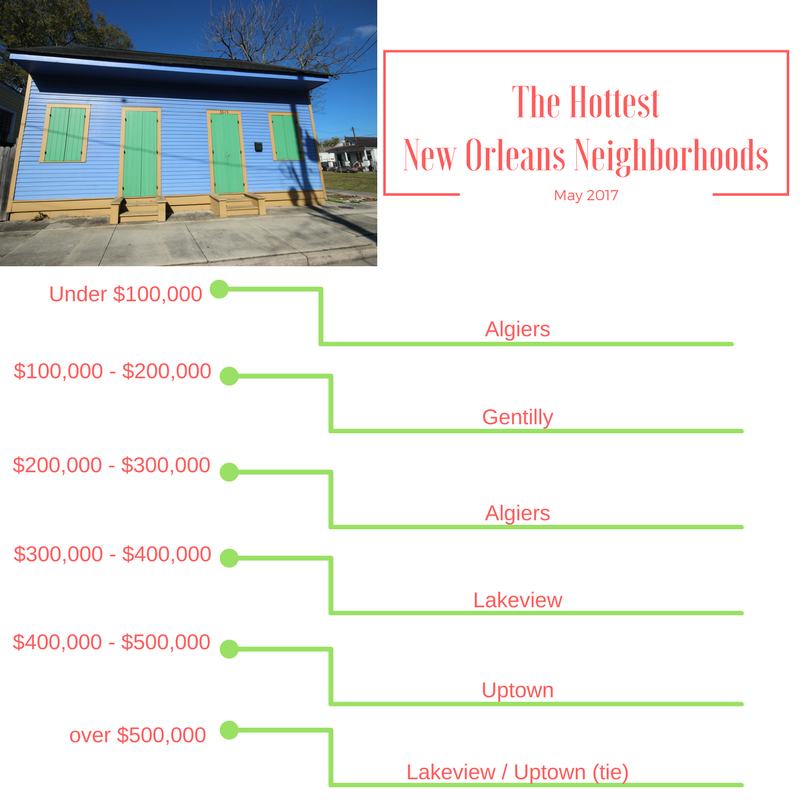 Moving into the $200,000-$300,000 price range, Algiers held this spot, with 13 homes sold in May. Most of the sales were in the 70131 zip code, so if Algiers Point is on your radar, you'll need to bump up your budget.
Uptown held the $400,000-$500,000 title, with 7 of the 33 sales in this bracket.
In the luxury market (over $500,000), it was a tie between Lakeview and Uptown. Of the 33 sales over $500k in May, they each had 11 homes sold.
Million Dollar Listings
May was a breakout month for sales of $1mm+ homes, with 13 sold. That's the highest number of sales in the range so far this year, far surpassing the 4 sold in April.
The most expensive property sold in May was a penthouse condo at One River Place that sold for $3,050,000