New Orleans Real Estate Recap for July 2018
With 7 months under our belt in the New Orleans real estate market this year, let's look at what's happening in residential home sales for the area.
New Orleans real estate prices
We've heard a lot of "the market is slowing down" talk lately, but the prices don't reflect that. Every month so far this year has seen higher median sales prices than one year ago.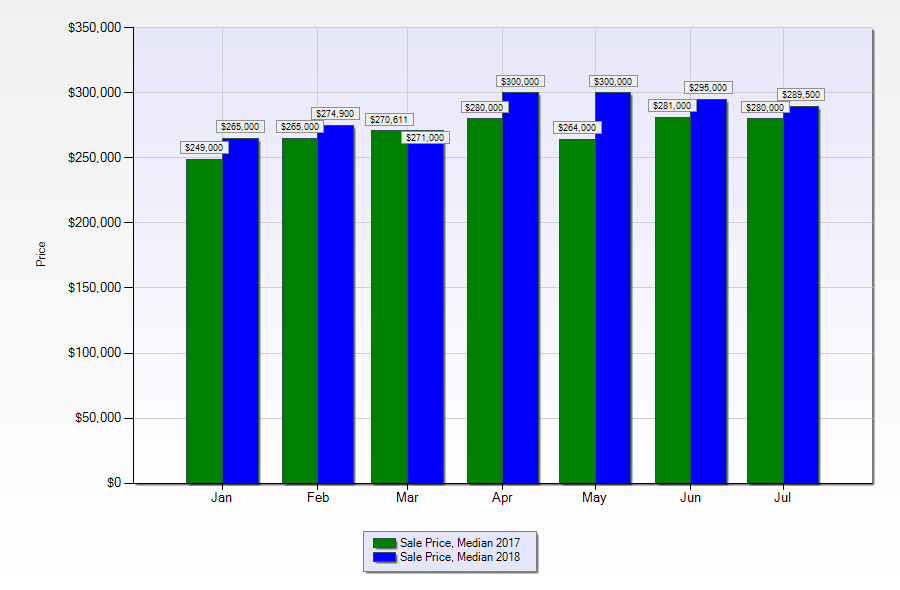 Number of homes sold in New Orleans
The slowdown is in the number of properties being sold each month, but that's only for 3 of the 7 months of data. March was unusually slow, but April and May outpaced 2017 by a significant number. We saw another dip in June and July. Is it the beginning of a market shift? There are more active listings this year than last, for sure. In July 2018, there were 2,140 homes on the market. In June 2018, that number was 2,018.
Prices matter
In the under $200,000 segment, there are fewer properties available than ever. The number of active listings in July was 512 – that's 20% fewer than just one year ago. The competition for these homes is fierce too, if they are move in ready. The median time to sell a house in the under $200k market is around 40 days and there is an average of 5 months of inventory available.
It's not any slower in the other price ranges, either.
$200-$300k = an average median time to sell of 44 days
$300-$500k = an average median time to sell of 46 days
$500-$750k = an average median time to sell of 54 days
$750,000+ = an average median time to sell of 44 days
Inventory tracking
The months of inventory is a good barometer for the amount of competition that sellers are facing. When there are more homes for sale in a price range than there are buyers, the months of inventory increases. Generally, 6-7 months is a balanced market. Any lower tips in the seller's favor, while higher inventory number tip in the buyer's favor.
Under $200,000 = 5 months
$200-$300k = 6.5 months
$300-$500k = 7 months
$500-$750k = 10 months
$750,000+ = 12.5 months
What's our general take on the market?
It's definitely still a strong market for homes that are in move in condition and for those that would appeal to investors. It's those homes in the middle that can linger on the market.
On the low end, properties that haven't been renovated are taking longer to sell, because those buyers generally don't have the funds to purchase and then undertake extensive remodels. These are the places that either end up taking a lower price or staying on the market longer.
On the high end, sellers need a little patience, because there's a lot of competition for buyers. Review your pricing periodically and watch for those subtle shifts that indicate it's time for an adjustment.
---
Need help selling your New Orleans home? Call us today at 504-327-5303.